Tikal Maya Temple was once one of the greatest cities in the world. In its heyday it was the capital of a vast Mayan empire. Today, the site is one of Guatemala's premier tourist attractions. Its unspoiled jungle setting makes it special for discerning travelers, particularly naturalists and bird watchers.
The mystery of their demise and the magnificence of their achievements both perplex and intrigue visitors. As you explore the temples, with your local guide, you will see panoramas of the city, read about the history and culture of the Maya, view artifacts, and listen to the sounds that bring Tikal to life.
Xunantunich or Maiden of the Rock  is situated on the Western Highway across the river from the village of San Jose Succotz. This major ceremonial center can be reached by ferry daily and it is only 1.5 Kilometer (one mile) from some lovely rapids of the Mopan River. This Classic Period site provides an impressive view of the entire river valley. The site core occupies only 300 square meters but the periphery covers several square kilometers.
El Castillo rises 40 meters above plaza level, making it one of the tallest buildings in Belize. On this structure there are two temples. The lower temple is famous for its large stucco frieze. A mask with larger ears probably represents the sun god. Next to this mask, there is a moon sign with a border of signs representing Venus.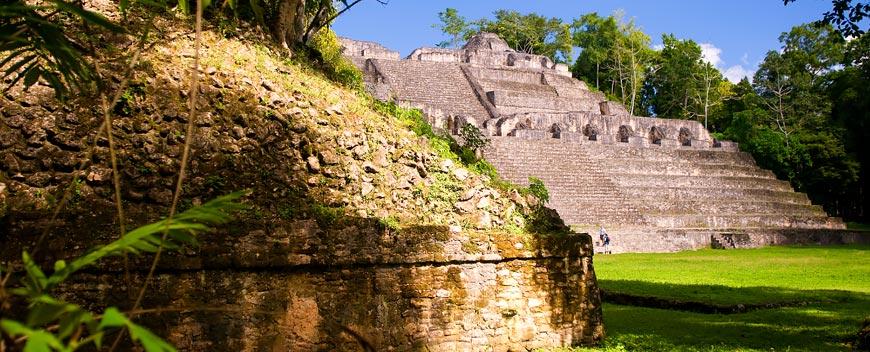 Located deep within the Chiquibul Forest Reserve, Caracol is the largest known Maya site in Belize and one of the biggest in the Maya world.  Caracol was a Classic Period urban center that spread out over 55 square miles with an estimated population of 180,000 people.  Caracol's enormous central core area covered 15 square miles and was linked together by more than 20 miles of "sacbeobs" (causeways) that radiated outward from its epicenter.  The temple "Caana" rises 42 meters above plaza level and to this day is the largest man-made structure in Belize.  Over 70 formal tombs have been excavated and many hieroglyphic texts have been found on stelea, altars, and ball court markers, capstones and wall facades. Ocellated Turkeys are one of the many wildlife species that you will find in this area. This region is also known as an excellent location for birding.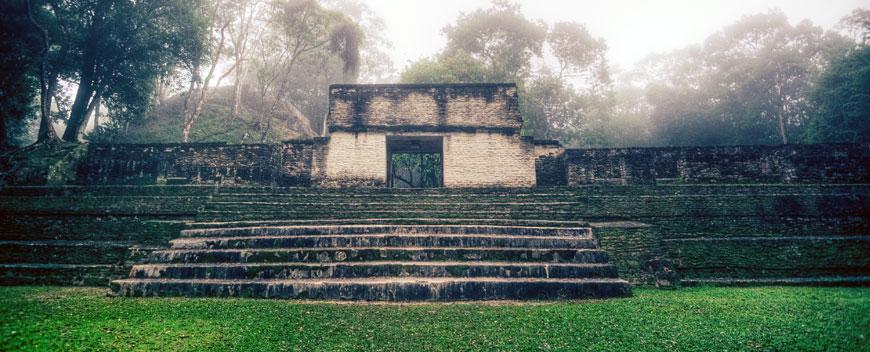 The Cahal Pech Maya Ruin and Visitor Center are located in the Cayo District on a hill overlooking the beautiful town of San Ignacio. Its closeness to town and the vast contrast from town life to rich jungle environment make Cahal Pech a unique place to visit.
The site center is made up of 34 structures located around several courtyards, including temple pyramids and residential buildings. The tallest structure here is 23.5 meters (77 feet) high. There are also 2 ballcourts, 8 stelae and 1 altar. Preliminary investigations carried out in 1988 revealed that Cahal Pech was settled by 1200 B.C. and abandoned around A.D. 850. This makes Cahal Pech one of the earliest Maya sites in the Belize region of the Maya lowlands, contemporaneous with Cuello in the north. A carved monument discovered at Cahal Pech is also the earliest carved stelae yet discovered in the eastern Maya lowlands.
El Pilar Archaeological Reserve for Maya Flora and Fauna is located north of Bullet Tree Falls in the Cayo District, about 16 kilometers (10 miles) from San Ignacio. El Pilar means, "pillara" in Spanish, and it was named after an army camp in the area. El Pilar lies in an area that had been cultivated for many years with numerous farms. The site is located on high terrain, giving the visitor a beautiful view across the Belize River Valley.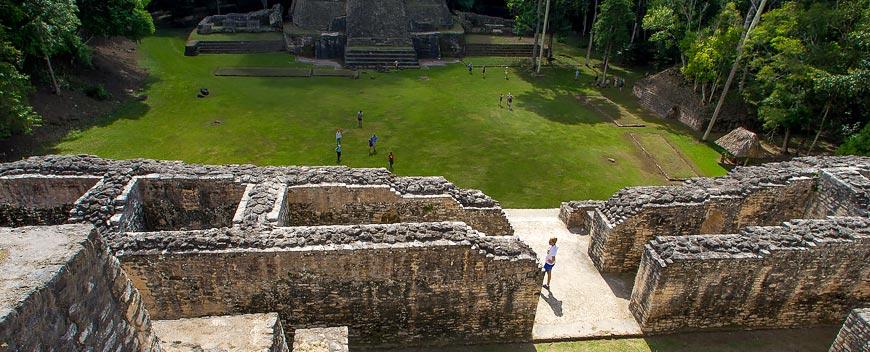 El Pilar is the largest Classical Maya sites in the Belize River Valley, with a well-defined ceremonial section, including both private and public areas. There are at least 15 courtyards or plazas covering an area of 50 acres. The center has one ball court in the south, a major palace in the north, and a sacbe (causeway) leading to Guatemala. Tikal in Guatemala is only 48 kilometers (32 miles) from El Pilar.