Lucy and Mick Fleming own the Lodge at Chaa Creek in Belize, one of the world's first eco lodges. While at Chaa Creek, I was awed by the energy and vibrancy of the jungle–and the Flemings.
It is hard to imagine an environment that is more vividly alive than the jungle–lush, teeming, unfurling, changing, challenging, chaotic, diverse, primal, light, dark, and unpredictable. Embracing life's unpredictability led Lucy from her New Jersey girlhood to finding her place in the world on the banks of the Macal River.
I've always been fascinated by people who have the courage to "follow their bliss" and my conversation with eco pioneer Lucy did not disappoint. Her journey, like the Belizean jungle, is inspiring and instructive.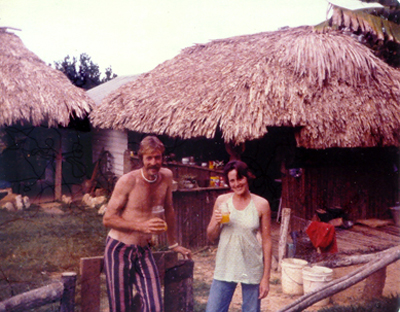 Photo Courtesy of the Lodge at Chaa Creek
Meg: Can you tell me about your journey to becoming a Belizean?
Lucy: Mick and I arrived in the British colony of Belize in 1977 with little capital and an eagerness to explore. The inspiration was to try our hand at something new, with no idea what that something may be.
Our early days here led us to many colorful encounters with an eccentric array of characters, one being Jack Garden, a group captain in the RAF V Bomber Squadron. Jack had purchased a piece of bush on the Macal River that he hoped we might like to farm for him.
There were no roads in so we traveled the six miles upstream by canoe, and again overland by horse to take stock of the place. We had a total of 300 pounds sterling between us and took on a lease with an option to buy. We toiled by day, cooked with firewood, cut paths with machetes, and illuminated the night with kerosene lanterns. At night, after bathing in the river, we pulled out our sleeping mats and listened to the BBC world service on the radio.
It was an existence of calloused hands, aching muscles, and an unrelenting determination to survive. Within six months we were selling vegetables and eggs in the early morning market, using our meager earnings to buy provisions and heading back by horseback or canoe as night fell. The struggles were hard and many and the rewards–our first horse Taboo, our milk cow Molly, and an outboard motor–were like manna from the gods. We felt and still feel blessed.
Meg: What a metamorphosis from those early days to being one of the world's premier eco lodges. It seems only fitting that Chaa Creek has a butterfly farm!
Lucy: Chaa Creek has always had this quality of being a place where people seem to find themselves or realize dreams, and the Butterfly Farm is another example of that. Long ago a maverick adventurer, English scientist Charles Wright, arrived at Chaa Creek with his young Maya assistant, a collection of Blue Morpho butterflies in various stages of maturity, several Palo de Sangra saplings, a box of scientific journals and a larger case of strong rum, and so it was that Belize's first butterfly farm was born.
Thirty years later it continues to delight thousands of visitors of all ages and nationalities who get to follow the intricate life cycle of these beautiful creatures, watching them grow from a tiny egg to voracious caterpillar and then hibernating in pupa stage before emerging before their very eyes as an iridescent, shimmering marvel. The Butterfly Farm is a result of what can happen when you welcome ingenuity.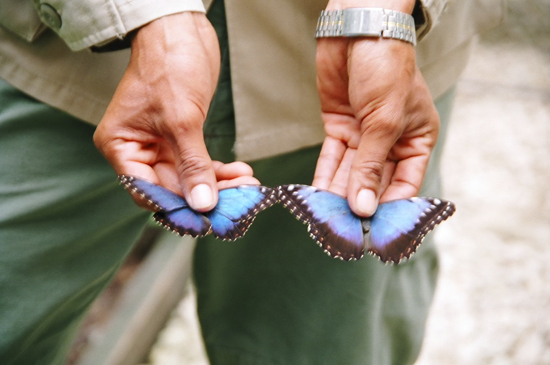 Meg: The Rainforest Medicinal Plant Trail seems to fall in that category too. How did that come about?
Lucy: In the mid-1980s a young Dr Rosita Arvigo became our neighbor, and she was soon busy recording the rich rainforest pharmacopeia that until then had been the private domain of a few curanderos, or shamanistic healers, the most famous of whom was the elderly and cantankerous Don Elijio Panti. Through perseverance Rosita eventually gained Don Elijio's respect and became his apprentice for thirteen years.
In 1987 the Director of the Institute of Economic Botany of the New York Botanical Garden, under a grant from the National Cancer Institute in the USA, arrived to collect plant samples in the ongoing quest for cures for AIDS and cancer. Don Elijio could neither read nor write, but Rosita was there to help him record over 500 different medicinal plants and their uses that initial study, and today, with the help of dozens of traditional Belizean healers, over 2800 plants have now been cataloged.
Chaa Creek's Natural History Centre acquired and expanded the Rainforest Medicine Trailsome fifteen years ago. Today it is a valuable resource for serious scholars as well as the countless visitors who take advantage of our daily guided tours.
Meg: Your corner of Belize is rich in Maya heritage. Do you have a favourite site?
Lucy: The nearby ancient Maya ceremonial site of Xunantunich will always be a favorite. In our early days we would sometimes pack a picnic, take the tractor down Chial road, and spend a day wandering around the site or taking in the stunning view from the top of El Castillo, the beautiful main pyramid with its mysterious frescoes.
Xunantunich has been extensively upgraded since our early day trips and moonlit sojourns there but it still retains that beautiful, otherworldly atmosphere that first attracted us and put us on the path towards becoming armchair Mayanists.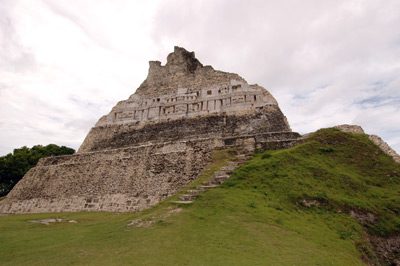 Photo Courtesy of the Lodge at Chaa Creek
Meg: Beyond your appreciation for the Maya culture, is there a spiritual practice you engage in?
Lucy: Life.
Meg: People sometimes question their "inner voice," fearing it is just wishful thinking. Has that been an issue for you?
Lucy: I do not question my inner voice but rather try to train my inner ear to listen to it. I know from experience that not listening and not reacting can sometime spell disaster or at the very least herald missed opportunities.
Learn more about Lucy's journey to Chaa Creek via a circuitous but fascinating route–across the U.S. with the J.J. Rider Circus, arriving in Athens in the midst of a coup, and meeting Mick apple-picking in Kent, England.http://www.viewfromthepier.com/peertopier/lucy-fleming/

Meg Pier's www.ViewfromthePier.com features an extensive collection of "Peer to Pier" interviews with fascinating folk from around the world.
This article was originally published on the Huffingtonpost website. You can view the original copy here.