The Best Winter Vacations With These Incredible Belize Flight & Accommodation Offers!
If you have read our previous post outlining 12 Awesome Reasons To Spend Your Winter in Belize!, you'd know that there is no shortage of reasons to spend winter in Belize; If you haven't, you should totally check it out. SO then, if you're sold on the idea of a tropical vacation to melt those icy blues away but have no idea how to even get here, then yet again, count on us!
Insider tip: You can check out general flight info here
Winter Vacation Flights with Southwest
If you're traveling from anywhere that Southwest Airlines flies out from, you might just be able to take advantage of some incredible deals they just took online for a winter campaign! With flights out from Birmingham, Alabama as low as $143 (not including taxes and fees) Between now and the 7th of November. This might be your perfect chance to book the best winter vacation you've ever dreamt of! Are you coming from somewhere else to avoid the cold, blizzards and snow storms – perhaps a connecting flight using Southwest can save the day! Check back to see if we have found more great deals on flights for you!
Flights from only USD $143 by Southwest
Southwest is awesome – so awesome in fact that your first two bags fly free! It's almost, one could say, like they're encouraging you to stay longer!
Holidays at Chaa Creek
Speaking of staying longer, to "commemorate"  these record low airfares to Mother Nature's best kept secret, The Lodge at Chaa Creek is offering up to 20% off their most popular accommodations so you can embark on one of the best winter vacations of your life.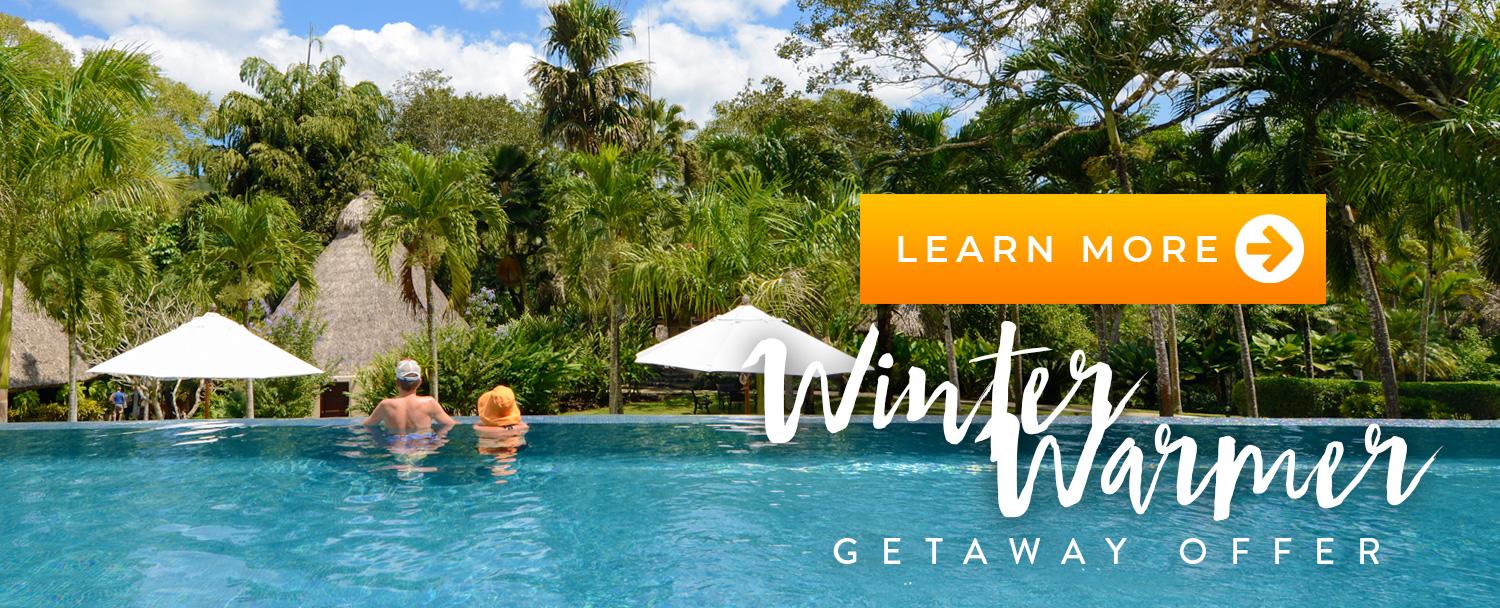 A stay with Chaa Creek includes full breakfast, not that "continental" stuff, to fuel you up for a day full of adventures such as hiking, an interpretive tour of the Natural History Center, Butterfly Farm and the Rainforest Medicinal Plant Trail within the 400-acre private nature reserve. The adventures don't stop there, though! Chaa Creek also has its fully equipped tour company, Chaa Creek Inland Expeditions that offers, horseback riding, jungle RTV tours, Transfers to and from airports, as well as tours to any and every of Belize's most popular attractions.
Epitomizing the concept of a feel good vacation, Chaa Creek's responsible travel practices sees 10% of all accommodation revenue going directly into environmental and community projects under the Chaa Creek Cares™ initiative.
After booking your flight, head over to the Chaa Creek Website to book and receive 20% off your stay on select dates
Activities in Belize
Now that you've booked your flight and accommodations, let's figure out what there is to do! We're always keeping up to date on the coolest developments around here – and trust us there's a lot to sift through! For the best info on activities, look at our Things to do in Belize Blog 🙂
Coming with Family? Check out these awesome activities to partake with your kids!
Like to live on the wild side, or perhaps the green side? Belize is home to some of the best winter vacation activities around. 🙂