THE LODGE AT CHAA CREEK TODAY ANNOUNCED IT HAS BEEN RECOGNIZED AS A 2020 TRAVELERS' CHOICE BEST OF THE BEST AWARD WINNER. BASED ON A FULL YEAR OF TRIPADVISOR REVIEWS THE AWARD RECOGNIZES OUTSTANDING TRAVELLER FEEDBACK, PLACING CHAA CREEK IN THE TOP 10% OF HOSPITALITY BUSINESSES AROUND THE GLOBE.
Belize Resort Awarded "Best of the Best" by TripAdvisor
Situated in the foothills of western Belize with breath-taking views of the lush Belizean rainforest, The Lodge at Chaa Creek is an adventure-rich Eco Resort just 2 hours away from Belize's Phillip Goldson International Airport.
Director of The Lodge at Chaa Creek, Bryony Fleming-Bradley said: "No feedback matters more to us than the views of real guests – that's why we are incredibly honored be rated so highly by Tripadvisor's community of reviewers.
"Recognition like this is a massive step towards recognizing The Lodge at Chaa Creek as a must visit property destination in Belize for travelers from across the globe."
Chief Commercial Officer at Tripadvisor, Kanika Soni, said: "Winners of the 2020 Travelers' Choice Awards should be proud of this distinguished recognition. Although it's been a challenging year for travel and hospitality, we want to celebrate our partners' achievements. Award winners are beloved for their exceptional service and quality."
Belizean owners Mick and Lucy Fleming have invested heavily over the last five decades by adding to, refurbishing, and refining Chaa Creek's 28-bedroom Eco Resort. In 2018, the Luxury Ix Chel Villas were completed and have been recognized as some of the most unique rainforest accommodation in Central America. The Belize Tourism Board's distinguished "Hotel of the Year 2018" was also bestowed on Chaa Creek during this innovative year.
The Lodge at Chaa Creek features a full-service restaurant, bar, conference center, over 10 onsite activities, an award-winning Hilltop Spa, a 400-acre Private Nature Reserve and their own tour operator company Chaa Creek Inland Expeditions taking guests from their "Destination within a Destination" to Belize's most popular attractions such as the Actun Tunichil Muknal (ATM) Cave, Xunantunich Mayan Ruins, Cave Tubing, Ziplining, and more.
Tucked away in the Macal River Valley among the western foothills of the Maya mountains, The Lodge at Chaa Creek is a genuine haven of tranquility. It's the perfect base for exploring western Belize, Belize's adventure capital, as well as Belize's Caribbean coast and islands.
And with its recent decision to provide onsite COVID19 testing for visitors from the USA who require a negative COVID19 test within 72 hours of reentry into the states, Chaa Creek is making travel much easier. Read about this, their flexible travel policy and COVID19 protocols that are helping to keep the staff and guests safe: https://www.chaacreek.com/covid19-updates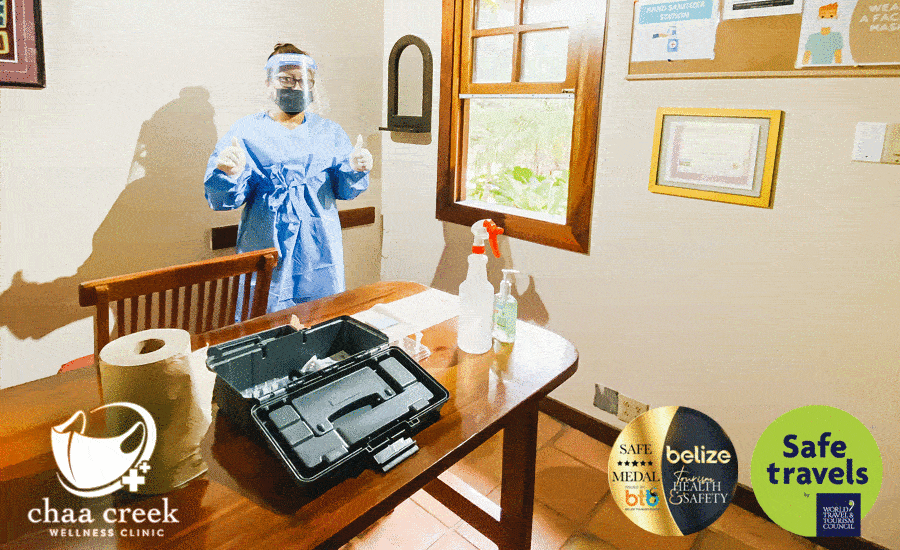 For further information on The Lodge at Chaa Creek please visit https://www.chaacreek.com.