When the US Center for Disease Control (CDC) announced that all travellers entering or reentering the US must now show proof of a negative COVID test taken within 72 hours prior to arrival, we were flooded with questions, and immediately began working on solutions.
Now, with a simple, straightforward and effective solution in hand, we're happy to
Demystify and make returning to the US from Belize easy
To be honest, it's really not that big of a deal.
Let's start with the US requirements, direct from the CDC:
"On January 12, 2021, CDC announced an Order requiring all air passengers arriving to the US from a foreign country to get tested no more than 3 days before their flight departs and to present the negative result or documentation of having recovered from COVID-19 to the airline before boarding the flight." 
The Belize Tourism Board (BTB) responded by saying:
"In response to the new CDC requirement, the Belize Tourism Board (BTB) after consultation with the Belize Ministry of Health and Wellness, confirmed that testing will be expanded and made available to all passengers departing Belize for the US.
The Lodge at Chaa Creek then responded with:
Chaa Creek has secured the services of a government licenced practitioner to facilitate the tests required for re-entry into the United States. The tests will be offered onsite at Chaa Creek, with the results made available within 72 hours prior to entry into the USA as required by the CDC.
What it all means, and how this affects our guests
First – we support the CDC requirements. Belize requires all visitors to our shores to present proof of a negative COVID test, and this makes us all feel secure that everyone arriving in Belize – and at Chaa Creek, are COVID-free. And we wholeheartedly support similar measures the US takes in defeating this global pandemic.
As soon as we heard of the CDC requirements, we got to work – and what we came up with is a way to make
Returning to the USA from Chaa Creek a breeze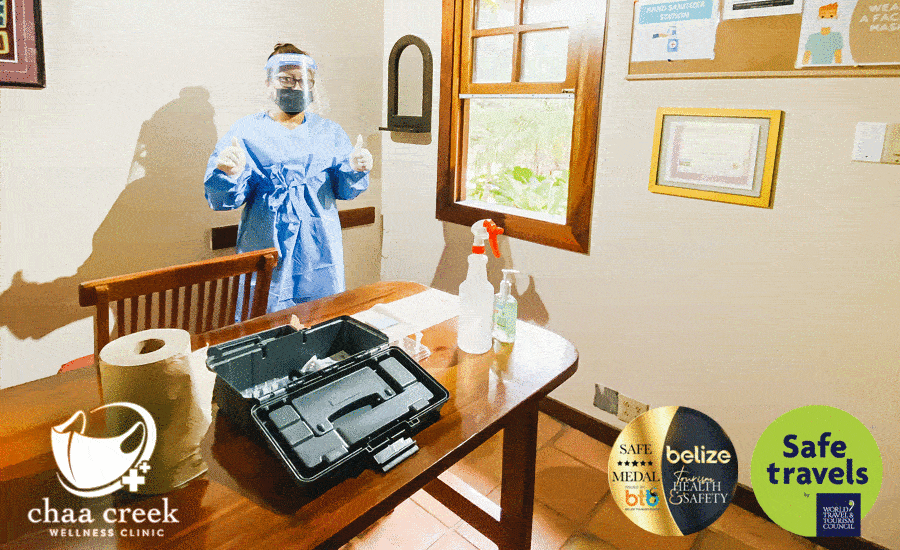 You've come to Belize and Chaa Creek to relax, and getting back home is the last thing you want to worry about. So, we established a Wellness Clinic near our front desk offices where guests can quickly be tested for COVID19 in a hygienic, airy and comfortable setting, with results returned in plenty of time to meet the CDC requirements.
The Chaa Creek Wellness Clinic, its procedures and testing personnel have been reviewed and approved by Belize's Ministry of Health and the Belize Diagnostic Center to ensure they meet international standards, and that the test results satisfy all CDC requirements for entry into the USA.
How it works
After washing hands, applying sanitiser, and drying with single-use hand towels, guests enter the well-ventilated clinic to be swabbed. This is a comfortable, ten second procedure, and guests can expect results within 20 minutes. Of course, the clinic is thoroughly cleaned and sanitised after each guest is tested.
After this brief, friendly, comfortable and professional interlude, you get back to enjoying your vacation, knowing that you've already met the requirements for reentry into the US.
And there's more – with stays of three nights or more, your family or group can receive two tests free of charge.
That's right – gratis, on the house, with our compliments.
You'll return home healthy, tanned, relaxed, and secure in the knowledge that you've helped in the fight against this pandemic as you breeze through officialdom.
How good is that?
You can find the latest information and updates on the BTB and Chaa Creek websites, and feel free to contact Chaa Creek directly to chat with one of our travel and vacation specialists. They'll be happy to give you the most up-to-date information, as well as help you plan a vacation that, from the time you're picked up at Belize's international airport until we drop you back off, is carefree and tailored to your own interests and expectations.
We've all been waiting for travel to resume, so let's make the most of it!
See you soon, and please travel safe
The Fleming Family and staff at Chaa Creek
---
Hot off the press – Belize receives first batch of COVID19 vaccines
The ministry of Health in Belize has just announced that Belize has received its first batch of Astra Zeneca COVID19 Vaccines. The government of Belize is also expecting its first batch of COVAX vaccines by the end of March/early April, which is more great news for the small and diverse Central American & Caribbean country.
---
COVID19 Update as of February 24th, 2021: